If you have Brandon Jessen as your project manager, then consider yourself lucky! He is knowledgeable, hard-working, and ge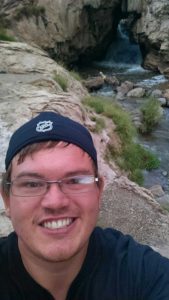 nuinely concerned about the condition of your log home and how satisfied you are during the project's process! Brandon started working for 888-LOG-GUYS in 2015 as a crew member and quickly moved up to become a project manager. He is a very valuable asset to our company, and we are excited to have him lead a part of our growing team!
Born on September 30th 1988, and the youngest of three boys, Brandon was raised in the small town of Clever, MO. Throughout high school, Brandon found his strong work ethics working on a local dairy farm. Determined to finish high school, Brandon was thankfully able to move in with his best friend and his loving family for support.
After high school, Brandon had a few different jobs to add to his work experience. He installed satellite internet services and accumulated home improvement experience in landscaping and carpentry.
Brandon is an animal lover, a music enthusiast, and a hockey fanatic. He enjoys spending time with his high school sweetheart, Ashley, and their three dogs and two cats. He is looking forward to a fulfilling career with 888-LOG-GUYS!