From our owner, Jon Fife:
From our humble beginning in the mid 1990's, 888-LOG-GUYS started as a venture operated from the trunk of a small Mazda sedan.  I was a freshman at Lipscomb University in Nashville, TN, looking for a way to make money while attending school. I had always had a talent for taking something weathered and aged and restoring it to its original beauty. I also had an affinity for working with wood so restoring decks and fences was a perfect fit. With careful attention to detail and strong guidance from experienced pros, I became good enough at it to build a following of loyal customers. I recall loving the bustle of leaving class and immediately going out to service clients until well after dark.
A life changing discussion with a retired log home specialist led me to the path of my true passion: the care and restoration of log homes. Under the tutelage of this craftsman I learned the intricacies of rot repair, chinking, removing failed stains and applying long lasting finishes. The satisfaction of stepping back to look at a freshly stained and sealed, air-tight log home still thrills me to this day!
No Turning Back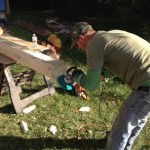 By 2004, there really was no turning back. I was more comfortable in the beautiful surroundings of a log cabin, tools in hand, than I was sitting behind a desk. With a university degree in my pocket, I knew that caring for log homes was truly the calling I couldn't deny. I decided to return to Missouri and it was there that Heartland Log Home Services, LLC was born.
In 2007, with a thriving and growing customer base, my brother Fred joined the business. Together, we decided to open a new location in Colorado which Fred would run while I maintained loyal customers here in Missouri. We gave that business its own name, Summit Restoration, LLC. Summit carried on our dedication for craftsmanship and customer service to the people of Colorado. Summit soon made a name for itself as the company to count on for the most complex rot repair projects, and for restoration jobs requiring extreme detail.
Bringing Together 20 Years of Experience

In January 2014, we decided to re-brand to create a more hassle-free customer service experience. To that end, we have combined Heartland and Summit under our new name, 888-LOG-GUYS. One website, one phone number, and the same dedication to service I started with as a young entrepreneur washing and staining decks.
 These days I am more likely to answer your call, respond to your email, or set up a proposal than I am to wield a mallet and chisel. Our trained technicians are drilled with the same attention to detail that has aided us in restoring hundreds of log homes from small fishing cabins, to grand homes worthy of the HGTV title, "Dream Home." My time is usually spent helping homeowners decide where they can get the most value on their restoration and overseeing the process to make sure everything goes smoothly. We have recently added warrantied maintenance programs so people can continue to enjoy their homes free from worry.
This may be just a job for many, but the joy I get from seeing a beautiful log home blossom from underneath a dingy or painted cabin is a feeling of which I will never grow tired. Restoring log homes is so gratifying, and I get to literally spend every day on that journey with my customers! I remain profoundly grateful and thankful for that.
I look forward to sharing my passion with log homeowners and the opportunity of transforming your home into a beautiful and comfortable investment that will forever remind you why you bought a log home.
To see what sets 888-LOG-GUYS apart I invite you to read our:
Humbly,
Jon Fife