We know your log cabin already has so much charm, but adding the right decor and design will certainly help bring out its best features. From the moment you step out of your car until you settle indoors, you can create that warm woodsy-chic feeling that attracted you to the style in the first place.
Fireplace Mantel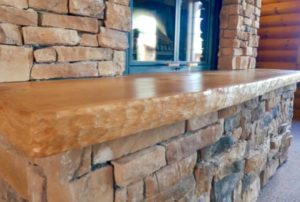 Add some individuality to your living room with an elegant fireplace mantel. Whether you're looking for rustic or a more modern appeal, there are options available that will add the perfect touch to bring the entire room together.
Pergolas

These canopies provide shade in the summer and help to define an outdoor living area. Extend your log cabin's charm by building one of these
chic wooden structures over your patio. For an added natural effect, you can grow vines along the beams and watch them flower in the springtime.
Accent Wall
You can add wood siding feature walls indoor or out to create log home charm. One option is traditional beveled lap siding which offers a farmhouse or craftsman look. This option tends to look more like the commonly seen cedar lap siding, but usually at a fraction of the cost. If you can find it, live edge siding will offer a more unique and antique style. It's perfect for adding a truly rustic look to your house. Adding an accent wall can truly change the whole feel of a room, soon making it one of your favorite places to relax!
Unique, Handcrafted Wood Furniture
An easy and fun way to add style to your log home is to furnish it with a few custom pieces! Consider a live-edge slab dining room table to provide a rustic yet classic look, with benches to match. Or maybe add a coffee or end table. Ever consider adding a bar top, or maybe a farmhouse table? You cannot go wrong when you decorate your home with the timeless beauty of real wood!
Handcrafted Address Plaques
Artisans have been crafting, carving, and welding personalized signs for centuries. Some homeowners place an address plaque at the end of their driveway and others right on the home itself. Whether you select a carved wood sign to match your log cabin or a welded metal one that contrasts with it, you can make finding your home a beautiful experience right from the roadside.
Corbels and Beams


While this may take a little more effort and the assistance of professionals, it's added design effect is well worth it. A front porch corbel for example can add curb appeal and value to your home. Or maybe you'd like to add some "Wow" factor to a room, by adding interior beams you can accomplish this.

When you start with a naturally beautiful log cabin, it's easy to create enchanting spaces inside and out. A little bit of decor can complement and contrast with the organic structure and bring out your own personal style.