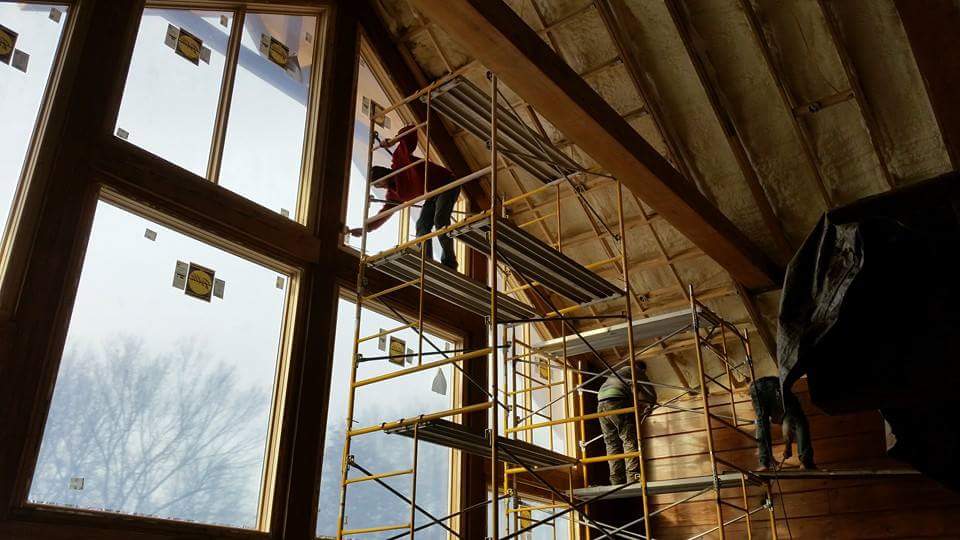 If you've decided to take it upon yourself to finish the interior of your log home, there are a few steps you must consider and follow before doing so. Luckily, the interior need only be finished once if you maintain a regular cleaning schedule and wipe it down.
Begin by prepping the wood.
Remove any mold or mildew. There are a couple of ways you can accomplish this. One way is by using a mild cleaner. Apply the cleaner to the wood, and then rinse thoroughly to neutralize the cleaner. Make sure to protect anything within reach in the event of run off.
Another way you can prep the wood (the best and easiest way) is to sand it down. Make sure you don't spot sand. You should sand evenly across all the wood. Sanding the entire area will give it a clean and even appearance. Make sure you're removing any gray or yellowish wood.
Next, apply your stain.
Applying ONE light coat of stain all over the interior is typically the best approach, especially if you have large windows and/or a lot of wall decorations. The exposed walls will lighten because of the UV radiation and the wall behind the pictures will remain dark. Applying more than one coat
of stain will cause the "picture frame" effect.
Finally, apply a clear cover coat. No matter if you're applying stain or not, you must apply the final clear coat. This allows for easy cleaning and a smooth surface. It's usually best to apply two finishing clear coats.
If you are interested in 888-LOG-GUYS staining the interior of your log home, call our number or fill out an estimate request online!