If you have owned a log home for any length of time, you already know what we are talking about! The dreaded carpenter bees that buzz around your head and disturb your otherwise tranquil log home experience. They tend to be most active in the spring, and we will field multiple calls per week asking for help with this pesky dilemma.
We have restored hundreds of log homes, so perhaps our experience will be beneficial to you.
WHAT ARE THEY?
The carpenter bee is often confused with the bumble bee, but they are not the same thing: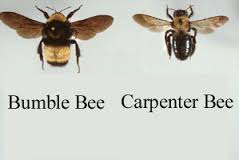 The carpenter bee is easily distinguished as the fellow that is actually living INSIDE your logs/wood, by which he gains access by drilling a nearly perfect 1/2″ hole. Once he has drilled inward, he immediately makes a 90 degree turn and starts drilling parallel to the grain of the wood. Although they are a wood-boring insect, they are not considered a structural pest. Here is a cross-cut to illustrate this: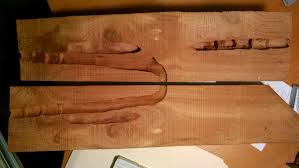 SO HOW DO I GET RID OF THEM?
Unfortunately…not very easily! They are notoriously difficult to remediate as they are very territorial, and our understanding is the only sure way to kill them is via brute force (smashing). There are other types of "dusting" and powder products that claim to work, but we've seen most of these come and go with no staying power in the market.
Here is a solution which may be worth trying — as you can see, the bee enters the bird house, and they they are attracted to the area with the most light (the jar) and then they cannot escape.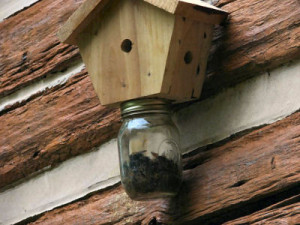 Another solution: Some of our stain product manufacturers have told us that when a home is finished with a gloss clear-coat, that this seems to be a deterrent to the bees. But, as you can see, this is highly anecdotal.
OUR BEST ADVICE:
We do not expect this to be a popular take! But here are our suggestions:
1) The restoration process usually helps. Think like a bee: You have the choice of drilling into a tasty dead oak tree in the wood, or into a nasty-tasting freshly-stained log home. They will choose the path of least resistance.
2) Bait them! Like in the photo above, build a few NON-STAINED large pine bird houses to put in the trees around your home. Offer them a more enticing choice.
3) Try to adapt to them as an acceptable cost of a rustic lifestyle. They WILL NOT sting you. They just buzz around your head to scare you away.
4) If you cannot accept them, attempt some baiting methods.
5) Pollinators are in crisis! So please consider that before choosing a more extreme removal method.
6) If you still wish to pursue a chemical method of treatment, there is a link below. Just know we are not vouching for the efficacy of the products. Our experience has been that not much works effectively, other than baiting them to a new location.
http://www.doyourownpestcontrol.com/Carpenter_Bees.htm
Have a great spring, and don't hesitate to ask any questions by calling for one of our experts or filling out an estimate request form!