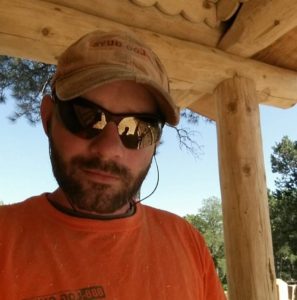 "Thunder is a great coach. He was patient and took the time to show his crew what needed to be done. And his chainsaw work was very precise. I loved having him and the crew around, and after they left, I thought, 'I kind of miss them.'"  – One of our clients residing in Colorado
Thunderbird's work ethic and professional manner is as hard to come by as his name. He is ⅓ Cherokee, and his father named him as such to remember his heritage. Call him Thunderbird, Thunder, or T-bird, whatever you'd like. No matter what you call him, he will give you the best service around, and by the end, you will be so pleased with your log home.
Shortly after graduating high school in Aurora MO, Thunder joined the U.S. Army and served until 2013. He has also completed one year of study at Ozark Technical Community College. Thunder's career experience includes several different fields, such as construction, customer service, and retail management. At one point, he accepted an opportunity constructing and maintaining the Phillips 66 pipeline that runs from Texas to Illinois.
Thunderbird had been a project manager for 888-LOG-GUYS since September 2016. With an interest in woodworking, Thunder loves the atmosphere, knowledge, and sense of accomplishment involved in restoring log homes and cabins. He works with the philosophy that every home should be treated as if it were his own. He has lead and completed many successful projects and exceeded our customers' expectations.
Our company is now very blessed to have Thunderbird on board to serve our clients and friends as the general manager of our Ozark MO office! With the work ethic, experience, and professionalism he has to offer, we are very confident our clients will receive even more of the care and attention they always had!