Desired Features
Builders and log home owners spend a fair amount of time planning and or looking for the most desirable home features, such as large eat-in kitchens and walk-in master bedroom closets. However, there are other very important features that homebuyers look for today. Here are some of those features.
Front Porch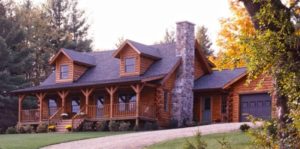 The front porch is an iconic par of Real Log Design.
The front porch is very much in demand and was listed as the 12th most likely feature to be included in a new home. But while most homes built today will have a front porch, none can match the appeal of a log home porch. While a conventional home porch can look like an afterthought, the log home porch looks like an integral part of your home's existence and adds instant utility and curb appeal.
Energy Efficiency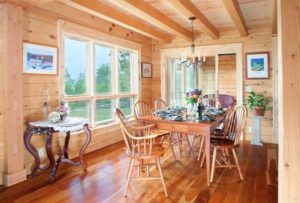 Quality windows help achieve the highest Energy-Star rating.
Believe it or not, Low-E windows, Energy-star windows, and Energy-star appliances make up three of the top seven features that builders expect to find in new homes. Clearly, energy efficiency is at the forefront of homebuyers' minds. Real Log Homes shine in this area, with their highly-insulated roofs and log walls with their great thermal mass.
Ceiling Height
As we all know, the great room is one of the most in-demand rooms in modern home design. However, the height of the great room may not be as great as you believe. Tall ceilings are in demand, with nine foot or greater first floor ceilings on the in-demand list.
Lofts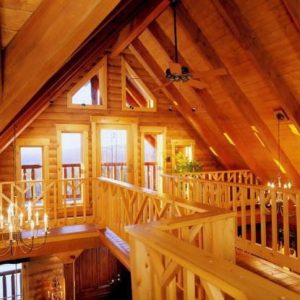 This loft makes the great room below feel a bit more cozy.
Having a loft area surrounding the great room can add that special look to give your log home an open yet rustic feature.  Lofts are definitely a beloved feature of the Log Home!
Living in a log home adds value to you and your family's everyday life. The atmosphere of a log house is relaxed and the choices you make when planning your log house will create a unique feeling of home.  Whichever design  direction you take, we hope you have a renewed pleasure every time you enter your home.